2019 Movies: Part 2
Welcome back to the second part of my 2019 movie previews. This time we'll be taking a look at anything non-Disney. This list can sometimes get a bit long, but I'll try to limit it the best I can. (Although apparently they pushed back the Wicked movie from 2019, so what is the point?)
The Lego Movie 2: The Second Part- February 8
Plot:
The citizens of Bricksburg face a dangerous new threat when LEGO DUPLO invaders from outer space start to wreck everything in their path. The battle to defeat the enemy and restore harmony to the LEGO universe takes Emmet, Lucy, Batman and the rest of their friends to faraway, unexplored worlds that
test their courage and creativity.
Cast: Chris Pratt, Elizabeth Banks, Will Arnet, Tiffany Haddish, and Charlie Day.
My Thoughts: I'm very excited to see this. The Lego movies haven't had a bad one yet, and this one looks just as stellar. Chris Pratt is also playing two characters this time, one of which is a combo of most of his big roles. It looks hilarious and probably just as sweet.
How to Train Your Dragon: The Hidden World- March 1
Plot:
What began as an unlikely friendship between an adolescent Viking and a fearsome Night Fury dragon has become an epic adventure spanning their li
ves. Welcome to the most astonishing chapter of one of the most beloved animated franchises in film history: How to Train Your Dragon: The Hidden World. Now chief and ruler of Berk alongside Astrid, Hiccup has created a gloriously chaotic dragon utopia. When the sudden appearance of female Light Fury coincides with the darkest threat their village has ever faced, Hiccup and Toothless must leave the only home they've known and journey to a hidden world thought only to exist in myth. As their true destines are revealed, dragon and rider will fight together—to the very ends of the Earth—to protect everything they've grown to treasure.
Cast: Jay Baruchel, Cate Blanchett, America Ferrera, and Kit Harrington.
My Thoughts: I'm super excited to have more HTTYD, but also nervous. They've already teased the ending is similar to the books and I just know I'm gonna cry. I know it's going to be a beautiful and excited film, though.
Shazam!- April 5
Plot: Billy Batson is a streetwise 14-year-old who can magically transform into the adult superhero Shazam simply by shouting out one word. His newfound powers soon get put to the test when he squares off against the evil Dr. Thaddeus Sivana.
Cast: Zachary Levi, Asher Angel, Mark Strong, and Djimon Hounsou
My Thoughts: Honestly, I'm not sure why I'm attracted to this movie in particular. I guess the trailers looked good and a lot better than most of the other stuff DC has come out with so far. So we'll see how it is.
Godzilla: King of Monsters- May 31
Plot: Members of the crypto-zoological agency Monarch face off against a battery of god-sized monsters, including the mighty Godzilla, who collides with Mothra, Rodan, and his ultimate nemesis, the three-headed King Ghidorah. When these ancient super-species-thought to be mere myths-rise again, they all vie for supremacy, leaving humanity's very existence hanging in the balance.
Cast: Millie Bobby Brown, Sally Hawkins, Vera Farmiga, and Kyle Chandler.
My Thoughts: The first two movies in this monster universe were enjoyable, if not the greatest, so it'll be interesting to see what this new movie brings. I already think there are too many monsters, three besides Godzilla, but maybe they can make it work.
Men in Black: International- June 14
Plot: Agent H and Agent M employ high-tech weaponry to battle mischievous aliens on Earth.
Cast: Chris Hemsworth, Tessa Thompson, Liam Neeson, and Emma Thompson.
My Thoughts: Have I seen the original Men in Black? Nope. (Something I should probably remedy.) Will I watch this movie anyway? Yup. Chris and Tessa made a pretty good team in Thor: Ragnarok, so I expect good things from them here. Chris has also turned out to be a fantastic humorous actor and I want to see more of that.
Downton Abbey- September 20
Plot: The continuing saga of the Crawley family and the servants who work for them in the English countryside in the early 20th century.
Cast: Maggie Smith, Elizabeth McGovern, and Hugh Bonneville.
My Thoughts: I have to get through all the rest of the seasons of Downton Abbey by September. I'm on season 3. We'll see how it goes. I have no clue what to expect from this movie, but I enjoy the show so much I'll watch it no matter what.
Jumanji 3- December 13
Plot: Unreleased as of yet.
Cast: Dwayne Johnson, Jack Black, Karen Gillan, and Kevin Hart.
My Thoughts: Jumanji: Welcome to the Jungle was surprisingly good, especially the dynamic between the actors, but you never can tell what's going to happen with sequels. I just hope it's good.
Cats- December 20
Plot: Hopefully more of one than the musical, but we haven't learned anything yet.
Cast: Jennifer Hudson, James Corden, Taylor Swift(!), Idris Elba, and Ian McKellen.
My Thoughts: My sister got me hooked on Cats and I loved the tapped version we got from the library. (Personal favorite cat being the narrator whose name I can't spell.) I'm hoping that this is going to be good. It's got so many fun songs and characters and costumes. All it needs is an actual plot and we'll be good.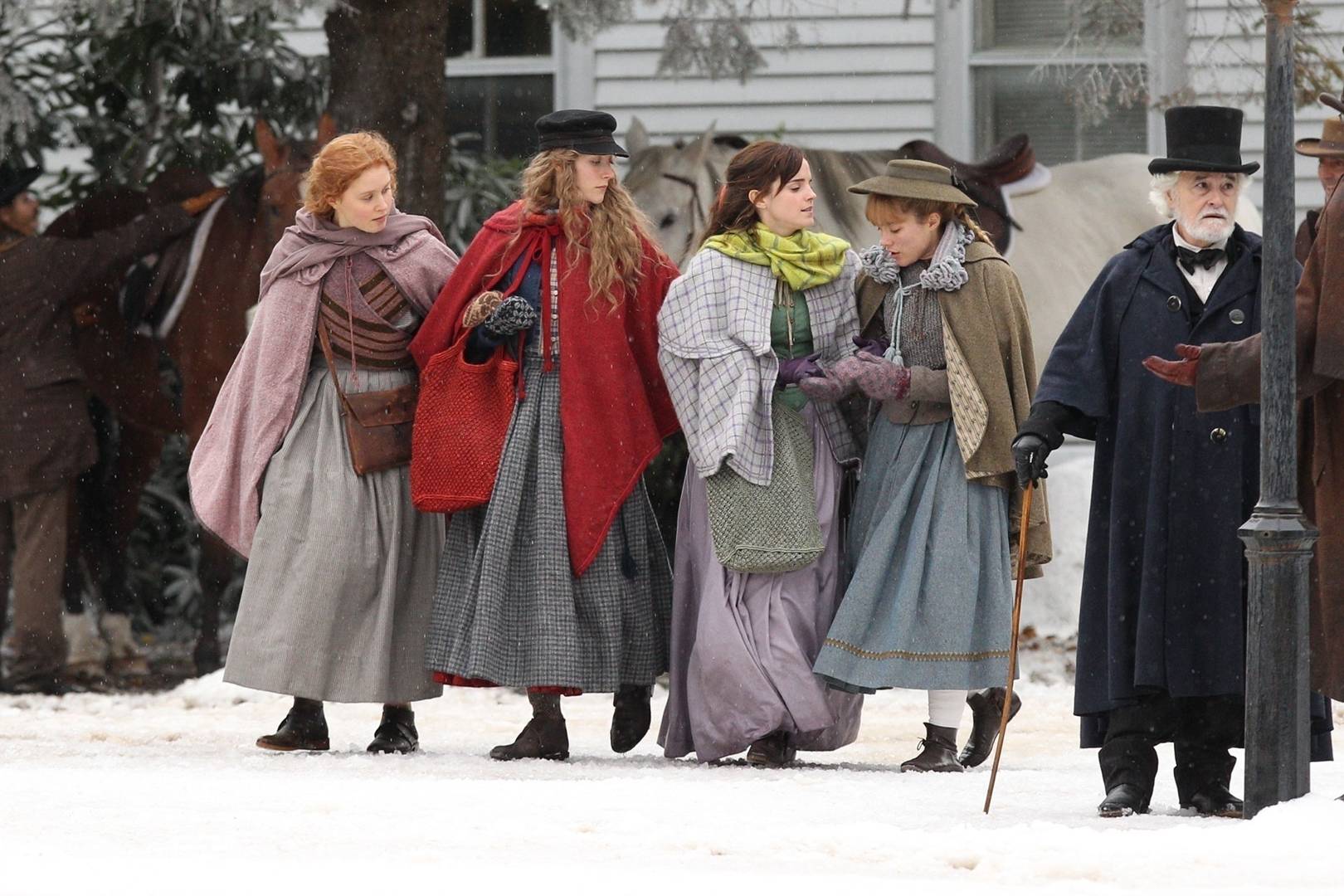 Little Women- December 25
Plot: Hopefully something like the book.
Cast: Emma Watson, Saoirse Ronan, Meryl Streep, and Laura Dern.
My Thoughts: *reads that it will focus on the second half of the book and the girls coming out into the world* *looks suspiciously at movie* You're totally not going to be anything like the book, are you? Every time I get my hopes up that this will be the one, but it never is. Besides, they cast Emma Watson as Meg when she is obviously Jo. *shakes head sadly*
Notable Mentions
Chaos Walking (Haven't read the book yet, but plan to. Bonus, Tom Holland.)
The Secret Life of Pets 2 (One wasn't awesome, so I'll reserve judgement.)
The Kid Who Would Be King (Modern day Arthur retelling. Sounds fun.)
P.S. I Still Love You (Hopefully in 2019, anyway.)
Detective Pikachu (Can I watch it just because Pikachu is adorable? I've never touch Pokemon in my life.)
What movies are you looking forward to next year? What's a movie that you wish would do justice to the book for once? Tell me in the comments.
Suggested Post:
2019 Movies: Part 1